Making a Self-Watering Pot from a PET Bottle
Last Updated on Thursday, 16 March 2017 19:11 Written by Nevin Wednesday, 08 March 2017 15:53
One of the great ideas that has been developed in recent years to help us out with the long hot summers is the concept of self-watering pots. That is to say, pots for growing plants which have a built in reservoir of water, which keeps the plants hydrated. As usual, the idea has been latched onto by pot manufacturers but they seem to have missed the point. The commercially available self-watering pots have a very small reservoir and tend to be gimmicky, rather than a serious alternative to standard plant pots.
However, it is possible, even desirable to make your own and in other articles on this website you can find out how to make an earthbox and how to use two recycled 20 litre buckets to make a self-watering pot. Now you can use PET drink bottles to make a self-watering pot too!
1. To start out you will need a bottle that has enough volume for the roots of the plant to grow, so use at least a 1.25 litre bottle, although a 2 litre or 3 litre bottle would be even better! And don't throw away the lid, you will need it.
2. Using a sharp knife (and wearing a solid leather glove on your non-dominant hand, I'm just sayin') cut around the bottle about two thirds the way down towards the base. The top will be the growing space and the bottom will be the reservoir, and now you just need to connect them. This will be done with some wicking material, I use synthetic rope. Natural fibres can also be used but will rot down in time.
3. Nylon or polyester braided rope is ideal (polyethylene is hydrophobic and so not a good choice). Unfortunately quite often the material which the rope is made from is not put on the label, in which case you could ring or email the company to find out or just use one which is labelled if you can find one. I was able to find some labelled as being polyester where other types from the same manufacturer were not labelled.

4. Cut sufficient length for your wicking material to go from the bottom of your reservoir up to a least half the way up your growing area. If you are using a synthetic wick, apply a bit of heat to one or both ends to melt them, it will stop the wick fraying and make it easier to get though the bottle lid. Since the material is a wick and not a tube, this will not affect its ability to conduct water.
5. Drill a hole through the centre of the lid approximately the same size as the wick you are using, I used 6mm wick so I drilled a 6mm hole. Push the wick up into the growing area, ensuring you leave enough length for it to get to the bottom of the reservoir and coil around a bit.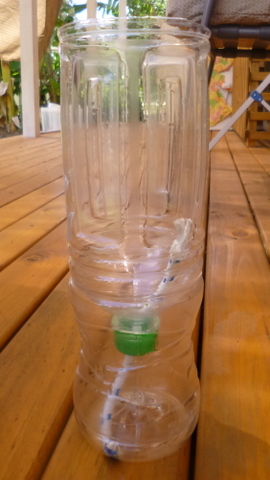 6. Fill the top section with growing medium and the bottom section with water, assemble you pot and install your plant!
There will be no more coming home after a weekend away at the beach (well, it's hot, right?) to find all your beloved pot plants have dehydrated and died.
Copyright © 2018 underthechokotree.com. All Rights Reserved.