Installing a Community Bench
Last Updated on Friday, 16 June 2017 12:05 Written by Nevin Friday, 16 June 2017 11:26
We want to improve community facilities in our area and part of our work in that vein was to install our street library, but everyone knows that you can sit and read in a library, so we made a bench for passers-by to sit on as well. The idea is that, with or without a street library, a community bench provides a resting place for tired or elderly walkers, a place to meet your neighbours and friends, or just a place for passers-by to rest and enjoy your front yard.  It provides a place where anyone can sit and enjoy the scenery.
As usual we prefer to put things together with recycled/repurposed materials. Years ago friends gave us a set of cast iron bench ends which they picked up from out the front of people's houses where they had been placed for rubbish collection. It seems that people buy the benches for their garden, but when the wood rots out they tend to throw out the much more robust cast iron ends, and start again rather than refurbish. Our friends had a number of sets of ends which they were going to revive and gave us one to work on as well. The bench ends have been sitting around our place for *mumble* years before I came across the community bench idea.
Construction
To make the bench seatable again was a fairly easy matter, I needed some timber 60mm – 70mm wide to make the slats for people to sit on and when we re-did the back deck we pulled up the original hardwood decking. Some of the decking was still in good condition and at 65mm wide and varying lengths it would do the job admirably.
To make the bench the right size to give comfortable seating for two people I cut the slats to 1 metre long with our drop saw. The timber may have been old but like me it was still pretty tough! So rather than using a hand saw the drop saw was the way to go.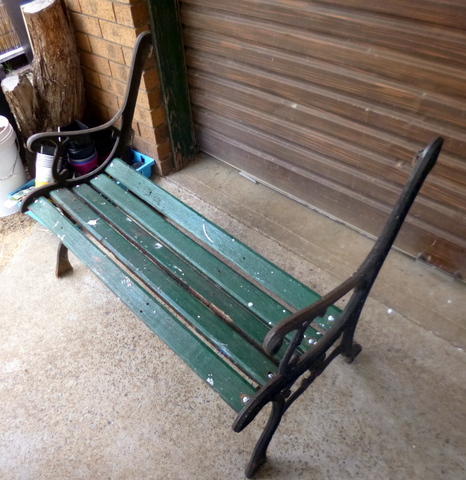 The original design had the seat composed of 5 slats on the bottom for sitting on and timber surrounding a cast iron design which formed the backrest of the seat. I didn't have the cast iron design so I decided to put in a top and bottom slat in the back and then screw some Masonite (left over from the backing for the street library) onto the slats once they were in place.
To fix the slats in place I used ¼"x 30mm (yeah, I know – mixed measurements but that is how they were labelled!) mushroom head bolts and nuts. I held each slat in place and then marked where the hole should go with a pencil. I drilled the holes with a ¼" drill bit and then drilled in about 4 – 5mm with a 16mm spade bit, so that the heads of the bolts would sit in below the level of the wood.
I cut the Masonite to size so that it would sit in behind the brackets the slats forming the back were fixed to, and then screwed it on using 8 gauge x 15mm button head timber screws. With everything in place I sanded the slats back and gave them two coats of the outdoor acrylic white paint which I had used on the street library, the Masonite got three coats.
Location
I wanted to locate the bench close to the street library but not obstruct anything else, like our water meter. After several trials we settled on its current location, on the nature strip to the right of the street library and just in front of the central melaleuca tree.
To make sure people understood the bench was for public use I added a "Have a Seat on Me!" sign onto the Masonite backing by just printing it off, laminating it and sticking it on with double sided tape. I also added a Choko Tree logo using the same process.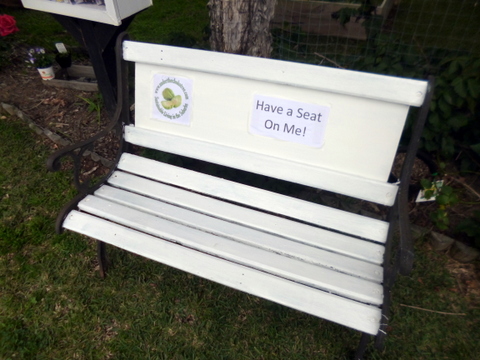 While I haven't noticed it being used yet, yesterday afternoon I came out and found one of the books from the street library sitting on the bench where someone had been reading it and then just put it down before they moved off. So we are obviously getting some traffic!
Even without a street library, it is worth installing a bit of community seating. The bench is not tied down in any way so we will see how it goes, although our area does not seem to be a hot spot for vandalism, beyond a bit of fence graffiti.
Copyright © 2018 underthechokotree.com. All Rights Reserved.