Community Books 2
Last Updated on Thursday, 08 February 2018 11:04 Written by Nevin Wednesday, 07 February 2018 11:19
Start a Community Garden – the essential handbook – LaManda Joy – Timber Press (US) 2014 ISBN 978 1 60469 484 0 – This is the best book on community gardening I have seen, and only a quarter of it is on actually growing stuff! The rest talks about the much more challenging side of community gardening – people management. Part 1 is about organizing a community around the community gardening and the initial meetings and how to get the most out of them. Part 2 is about planning and checking to make sure resources like water etc are available as well as moving through the meetings to bring the garden to life. Part 3 is about managing the group and keeping it heading in the right direction and then moves on to the technical issues of planting and growing. Lots of great tools to help working with people. No photos, some line drawings.
The community Gardening Handbook – Ben Raskin – Leaping Hare Press (UK) 2017 – 978 1 78240 449 1 – This book is about the UK experience of community gardening rather than the US, above. It is somewhat heavier on the technical growing side. It starts off with an introduction to community gardening, one page per entry, describing examples of how others have developed community gardens. The next chapter covers getting started and the third chapter is about planning the site and covers technical skills like seed saving albeit in not much detail. The rest of the book is taken up with a plant directory covering fruit vegetables and herbs, one page per plant. Lots of photos and some line drawings.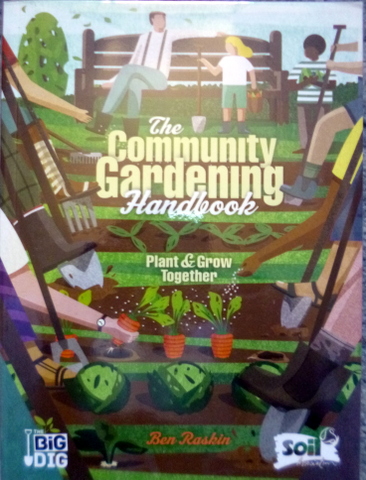 Street Veg – Naomi Schillinger – Short Books (UK) 2013 ISBN 978 1 780 72112 5 – The book is set out over 12 months on a month by month basis with each month broken up into 6 headings: "Community Corner" covering the skills and issues about getting community thing happening; "Sowing and Planting Vegetables" covering what to grow when and how to do it through the year; "Sowing and Planting Fruit & Vegetables" ditto!; Simple but Brilliant Ideas covering such diverse topics as volunteering, garden sculpture and a DIY watering system. "One Pot Shop" covers setting up a food garden in pots and "Harvesting" which covers the how and when of…………harvesting! Loots and lots of colour photos.
Fair Food – Nick Rose (Ed.) – University of Queensland Press (AUS) 2015 ISBN 978 0 7022 5366 9 – This is not a "how to" or technical book but rather a series of stories on "how I did it", the "it" being taking back food production and distribution back to a community level and out of the hands of the big corporations. The book is a series of monographs by different authors and edited by Nick Rose. Issues covered include permaculture, food hubs, backyard food forests, food connect network and lots more. No photos.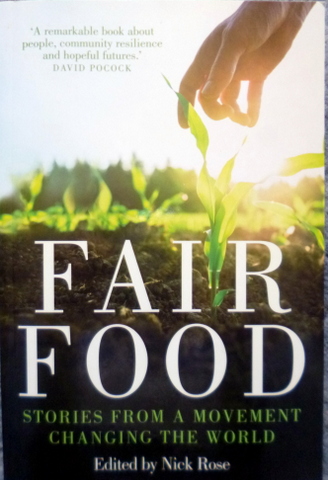 Sharing the Harvest – Elizabeth Henderson with Robyn Van En – Chelsea Green (US) 1999 ISBN 978 1 890132 23 3 – This book is about creating and developing a Community Supported Agriculture (CSA) farm. Part 1 covers what a CSA is and how it fits into a sustainable food system. Part 2 covers how to creat a CSA, choosing the farmer and the land. Part 3 covers a whole lot of stuff about organising including labour, money matters legalities (in the US, different here) and communicating with the community. Section 4 covers growing and handling food and distributing the harvest. Part 5 covers a number of CSA models including farmer initiated CSAs and consumer initiated CSAs and agriculture-supported communities. A few black and white photos and line drawings.
Power From the People – Greg Pahl – Chelsea Green (US) 2012 ISBN 978 1 60358 409 8 – This is a US book and full of great ideas but I don't know how applicable it would be here in Aus. The book starts off with a section on why the idea is good and our vulnerabilities, followed by discussion of energy sources, the centralised energy system and benefits of relocalising. The next part covers strategies for the homeowner to put in place to become more resilient, followed by the meat of the book – how people have got together and organised and run community energy systems, based on solar, wind, hydro and biomass well as other energy sources. There are examples in the US of how people have organised local renewable energy systems. A few black and white photos.
Energy Efficient Community Planning, a guide to saving energy and producing power at the local level – James Ridgeway – The JG Press Inc. (US) 1979 ISBN 978 0 932424 02 3 – This is an old book covering a whole stack of ideas around energy saving, and working with local government to put in policies to support it. The book includes reproduced documents from various US cities about policies and programs they put in place to reduce energy consumption in their area. Also included are examples of community innovations around using and financing renewable energy solutions. The book has a small number of black and white photos.
Take Back the Economy, an ethical guide for transforming our communities – J. K. Gibson-Graham, Jenny Cameron and Stephen Healy – University of Minnesota Press (US) 2013 ISBN 978 0 8166 7607 1 – The book talks about what the economy is and how we fit into it. The book then goes on to discuss strategies for taking back work, taking back business, taking back the market, taking back property and taking back finance from the multinational corporations and relocalising. The book details examples of how this has been done by different groups all over the world, including Australia. There are a number of tools and checklists to help you get started. No photos, some line drawings.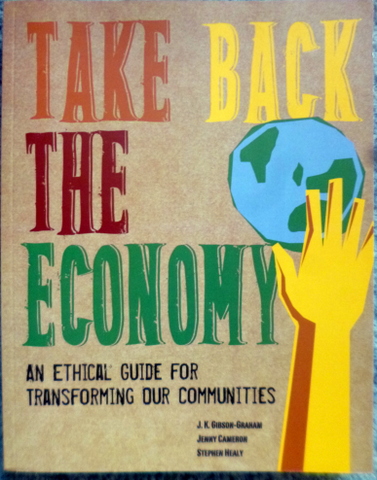 Copyright © 2018 underthechokotree.com. All Rights Reserved.